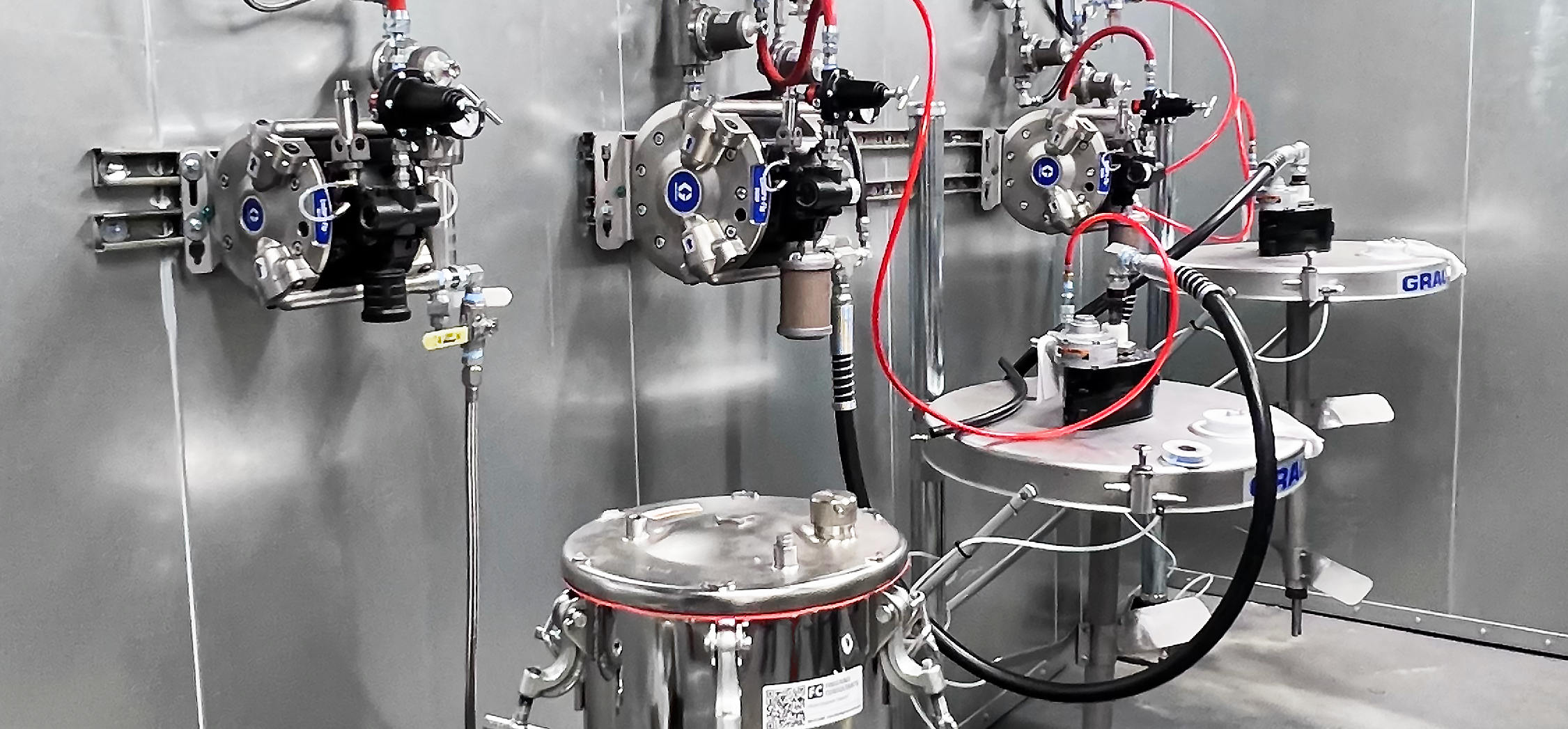 Fluid Handling (Pumps & Mixers)
Effective fluid handling is crucial to the success of any finishing system. Fluid handling is the process of managing liquid paint, solvents, and other solutions. Finishing Consultants product and process experts specialize in everything fluid handling, including pumps, mixers (manual and on-demand), and piping. Our commitment to customer satisfaction ensures that you are satisfied with your fluid handling solution and get only the best equipment for your unique needs. Different spray systems have different fluid handling requirements depending on the surface being sprayed and the painting or coating material.
Spray System Fluid Handling
Fluid handling is a crucial component of any spray system. Depending on your finishing application, there are a wide variety of fluid transfer & metering, pumps, dispensing, on-demand mixing equipment, and proportioning system options for specific manual, automatic, and robotic finishing operations. Finishing Consultants will help you design and implement the most effective plural or single component spray system, including every aspect of fluid handling. Our expertise includes:
Plural Component Paint Metering Systems
Fluid Handling Installation
In addition to helping you determine the best fluid handling for your complete spray system, our consultation, fabrication, and installation teams can make installing your spray system equipment as simple as giving us a call. Our industry experts will install any and all of your spray components, including pumps, transfer systems, metering systems, and on-demand mixers, to complete your finishing equipment and even custom fabricate solutions to meet your unique specifications.
Fluid Handling Equipment Manufacturers
Finishing Consultants offers the top of the line fluid handling equipment manufacturers including:
If you're interested in improving your fluid handling to optimizing your industrial or manufacturing finishing operation, schedule a visit with Finishing Consultants today!