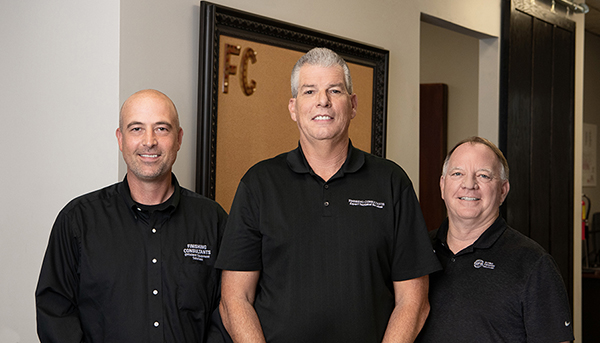 About Us
Finishing Consultants has been providing Efficient Equipment Solutions in the Western United States for over 29 years. We strive to help manufactures reduce waste, increase labor efficiency, and improve finish. Our product experts will assist you in identifying the ideal solution for your finishing process challenges.
Finishing Equipment Product Expertise
Our mission is to provide the most efficient equipment solution to your specific requirements. Whether it's powder or paint application, two-component metering, electrostatic spraying, abrasive blasting, dust and weld-smoke collection, or solvent recycling, Finishing Consultants has the knowledge, products, and customer service to provide the value proposition for your requirement. Be sure to check out all of our products and services.
Technical Services & Installation Experts
Finishing Consultants has the technical expertise for any type of finishing system installation, including custom spray booths engineered for your unique situation. Our Technical Services experts are happy to perform an on-site visit to assess your specific needs and recommend an ideal solution. We represent the highest quality manufacturers and strive to improve your process by reducing finishing costs through waste reduction, improvement in labor efficiency, minimize energy & material consumption, and improve finish quality.
Large Service Footprint Throughout the Western States
Based in Everett, Washington, Finishing Consultants has representatives throughout Washington, Oregon, Idaho, California, Arizona, Nevada, and Utah to better serve you.
Schedule an onsite visit today and let our experts help you get the job done.
Finishing Consultants Product Lines & Services
High-efficiency spraying systems for liquid, powder, waterborne, plural-component, and high-solids materials
Electronic meter-mix systems for coatings and adhesives
Engineered, high-quality spray booths, mix rooms, drying enclosures, and ovens
Automatic finishing systems for doors, moldings, and kitchen cabinet components
Solvent recycling units to reuse your flushing solvents and drastically reduce your hazardous waste-stream
Abrasive blast booths, blast-cabinets, and abrasive recovery systems
Cartridge collectors for dust, weld-smoke, grinding, and sanding
Plus, precision aqueous washers and ultrasonic cleaning units